Baghouse Bag Filter Industrial Dust Collector
Product Detail
Product Tags
HMC series pulse cloth bag dust collector is a single type bag dust collector. It adopts circular filter bag, self-contained air ventilation system with pulse injection ash cleaning mode, which has advantages of high dust removal efficiency, good ash cleaning effect, low operation resistance, long service life of filter bag, simple maintenance and stable operation, etc.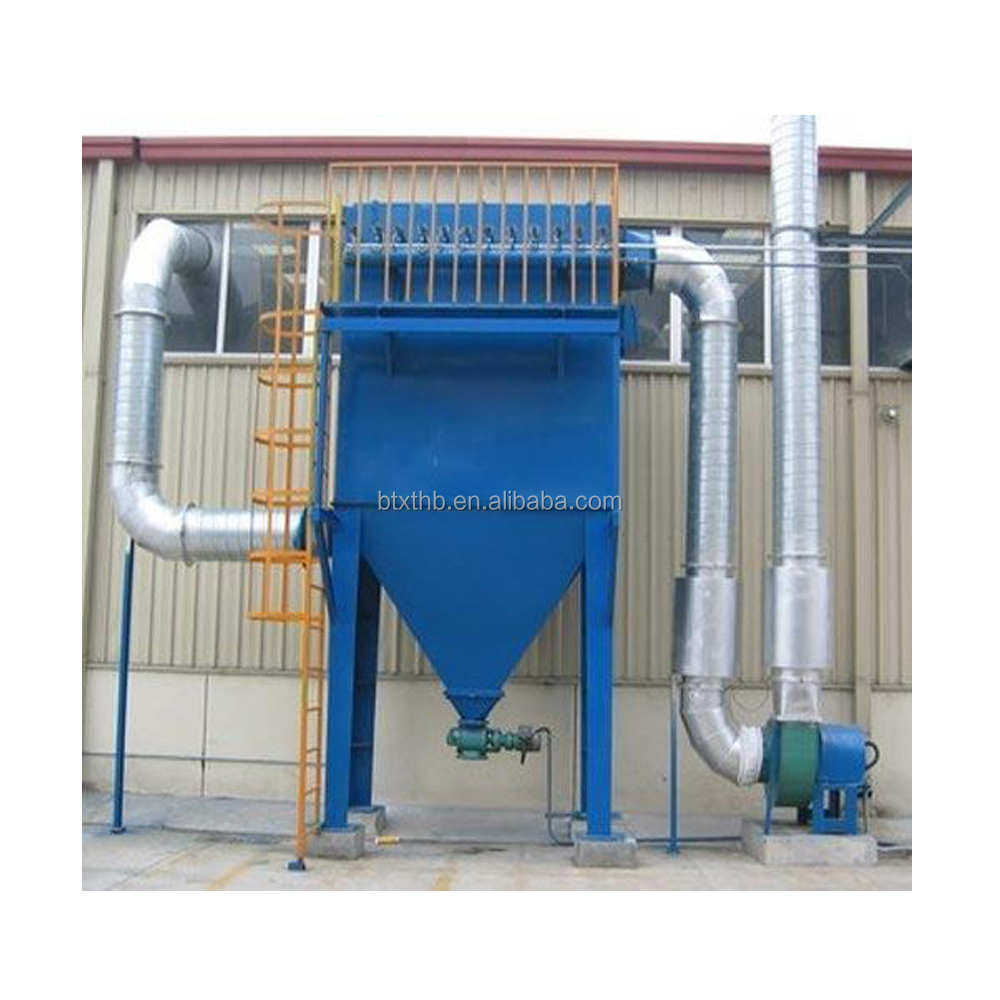 When the dust gas enters into the cloth bag dust collector from air induced system, due to the decrease of wind speed, the dust particles with a large proportion settle into the ash hopper, and the lighter dust depends on the air induction to reach the surface of dust removal filter bag. The filter bag of dust collector generally uses needle felt as the filter carrier, and the filtration accuracy can reach <1um. The dust is blocked on the surface by the filter bag, and the dust gas is purified through the filter bag. With the increasing of time, more and more dust is filtered on the surface of filter bag, so the resistance of the filter bag is gradually increased. In order to make the dust collector work normally, when the resistance rises to a limited range, the electronic pulse controller issues instructions to follow the order. The sequence triggers each control valve to open the pulse valve, and the compressed air in the gas storage bag of dust collector is sprayed into the corresponding filter bag by each injection hole of the injection pipe. The filter bag expands rapidly under the instantaneous reverse action of air flow, which makes the dust attached to the surface of the filter bag fall off and makes the filter bag achieve the most original air permeability filtration effect. The cleared dust falls into the ash hopper and drains out of the body through the ash removal system to complete the whole ash cleaning and filtration process.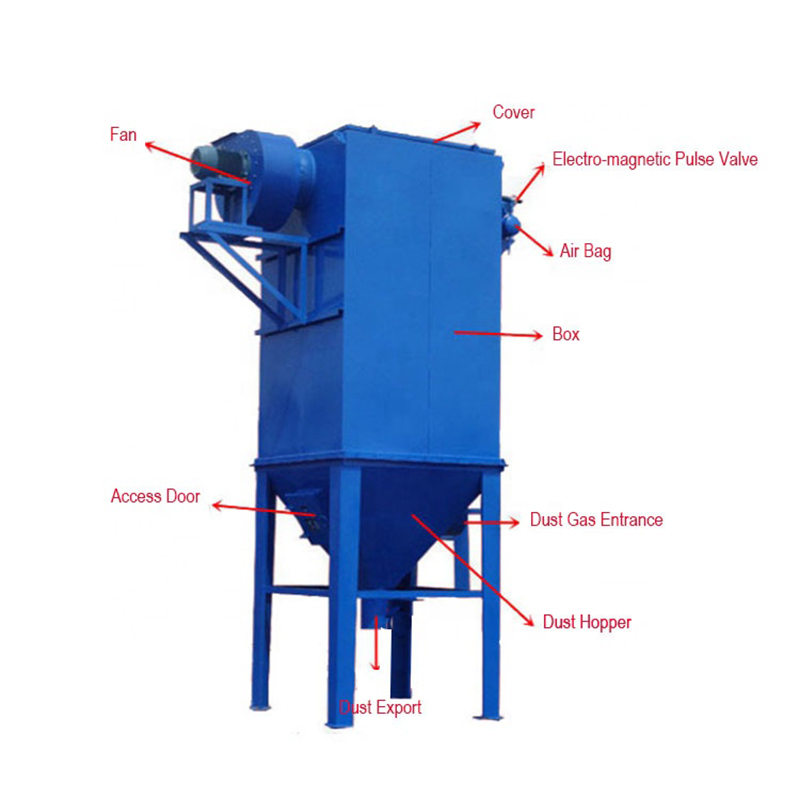 Technical Parameters of Equipment Selection:
Equipment Model

HMC-24

HMC-32

HMC-36

HMC-48

HMC-64

HMC-80

Total Filtration Area m²

20

25

30

40

50

64

Filtration Velocity m³/min

1.0-2.0

Air Volume m³/h

1200-2400

1500-3000

1800-3600

2400-4800

3000-6000

3840-7680

Quantity of Filter Bag

24

32

36

48

64

80

Specification and Material of Filter Bag

130*2000mm

Air Outlet Dust Concentration mg/m³

≤30

Beard Negative Pressure Pa

5000

Equipment Running Resistance Pa

800-1200

Injection Pressure Mpa

0.4-0.6

Electromagnetic

Specification

DMF-Z-25(G1")

Quantity

4

4

6

6

8

8

Induced Draft Fan Model

4-72-2.8A

4-72-3.2A

4-72-3.6A

4-72-3.6A

4-72-4A

4-72-4.5A

Power of Motor

1.5kw

2.20kw

3kw

4kw

5.5kw

7.5kw
Equipment Model: HMC- 160B Pulse Cloth Bag Dust Collector
Application Field: Dust removal of combined grinder, grooving machine, grinding and cutting machine.
Equipment Model

HMC-96

HMC-100

HMC-120

HMC-160

HMC-200

HMC-240

Total Filtration Area m²

77

80

96

128

160

192

Filtration Velocity m³/min

1.0-2.0

Air Volume m³/h

4620-9240

4800-9600

5760-11520

7680-15360

9600-19200

11520-23040

Quantity of Filter Bag

96

100

120

160

200

240

Specification and Material of Filter Bag

130*2000mm

Air Outlet Dust Concentration mg/m³

≤30

Beard Negative Pressure Pa

5000

Equipment Running Resistance Pa

800-1200

Injection Pressure Mpa

0.4-0.6

Electromagnetic

Specification

DMF-Z-25(G1")

Quantity

12

10

12

16

20

20

Induced Draft Fan Model

4-72-4.5A

4-72-4.5A

4-72-5A

4-72-5A

4-68-8C

4-68-6.3C

Power of Motor

7.5kw

7.5kw

11kw

15kw

18.5kw

22kw
Application
Packaging and Shipping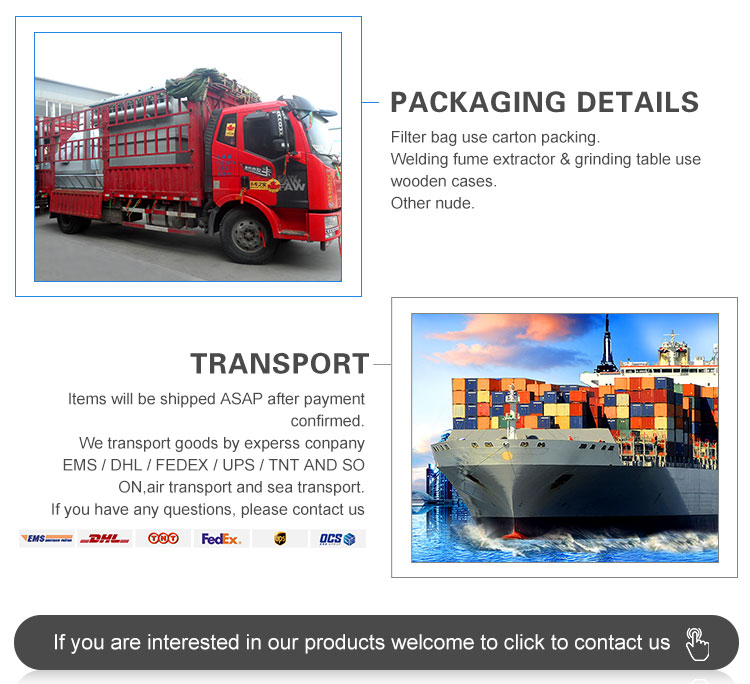 ---
---
---
Write your message here and send it to us