Y JD series Star Unloader
Product Detail
Product Tags
YJD-A/B series unloading device, also known as electric ash unloading valve and electric lock valve, consists of three parts: motor, tooth difference planetary reducer (X) or pinwheel cycloid reducer (Z) and rotary unloader. There are two series and 60 specifications
The square flanges of import and export are type A, and the circular flanges are type B
The device is a dust removal equipment, the main equipment for conveying, discharging ash, locking air and other equipment feeding. It is suitable for powder and granular materials. Installation size is consistent with all kinds of dust collectors, which is widely used in environmental protection, mining, metallurgy, chemical industry, grain, chemical and other industrial sectors
Special motors, such as explosion-proof, frequency modulation, speed regulation and marine motors, can be configured according to needs of users in order to meet users'special requirements. The material can also be processed according to the needs of users, such as high humidity resistance, corrosion resistance, stainless steel, flexible blades, explosion-proof impellers, etc
Technical parameters of A/B-X/Z  YJD unloader:
      Model

 Name        Data

YJD
2

YJD
4

YJD
6

YJD
8

YJD
10

YJD
12

YJD
14

YJD
16

YJD
18

YJD
20

YJD
26

YJD
30

Unloader L/r

2

4

6

8

10

12

14

16

18

20

26

30

Unloader m³/h

4.08

8.16

12.24

16.32

20.4

24.48

28.56

36.64

36.72

40.8

50.64

61.2

Inner diameter mm

150

180

200

220

240

260

280

300

320

340

400

440

r/min

Type Z

25-40(standard speed:34r/min)

Working temperature °C

T ≤80°C  T ≤200°C

Materiel

Powdery, granular

Electric machinery

Model

Y801

Y802-4

Y90S-4

Y90L-4

Y100L1-4

Y100L2-4

KW

0.55

0.75

1.1

1.5

2.2

3

r/min

1390

1400

1430

Weight kg

53

71

86

101

121

141

161

181

191

221

251

301
Y JD series Star Unloader
Product Description
Airlock valve,also named discharge valve,star discharger,cindervalve,is an important equipment for pneumatic conveying system and dust removal system.
It is mainly used to discharge the material continuously from the tripper and dust collector,and make sure the inner pressure not exposed to atmosphere pressure evironment.
The airlock valve is made of gear motor,sealing element,impellers and rotor housing on which many rotating blades are set.It is capable of discharging powder,small particles,flaky or fibre continuously by the differential pressure of material.Now it has been widely used in chemical,pharmacy,drying,grains,cement,environmental protection and power industry etc.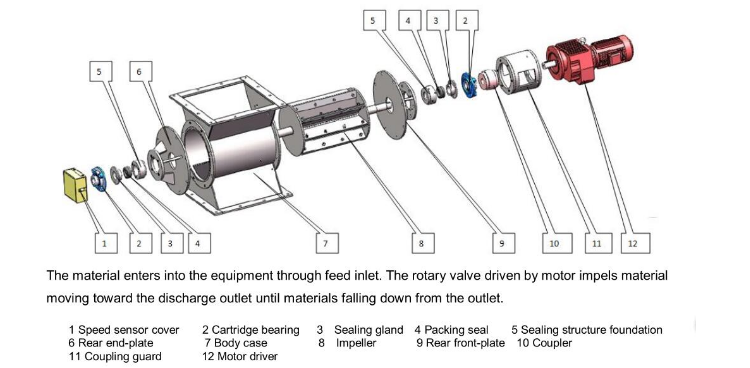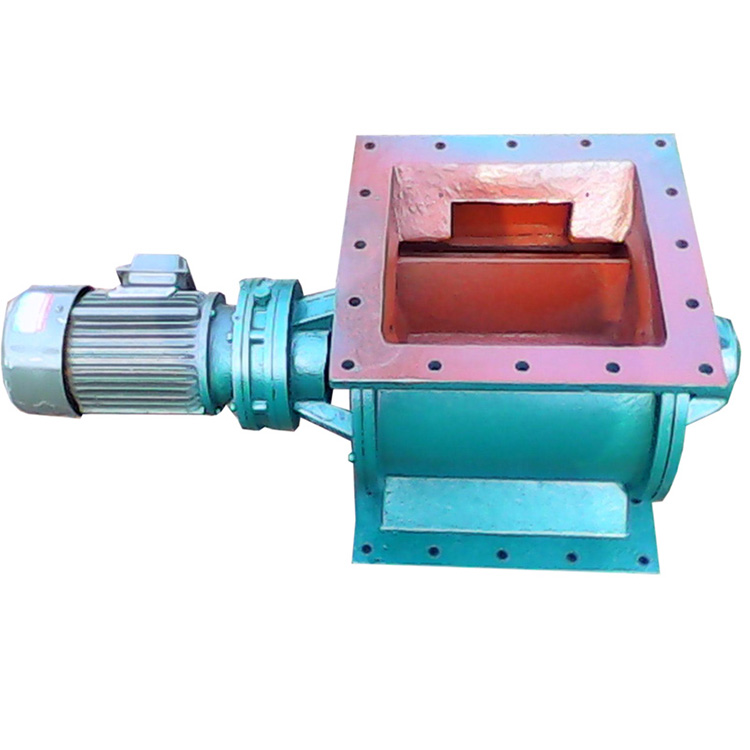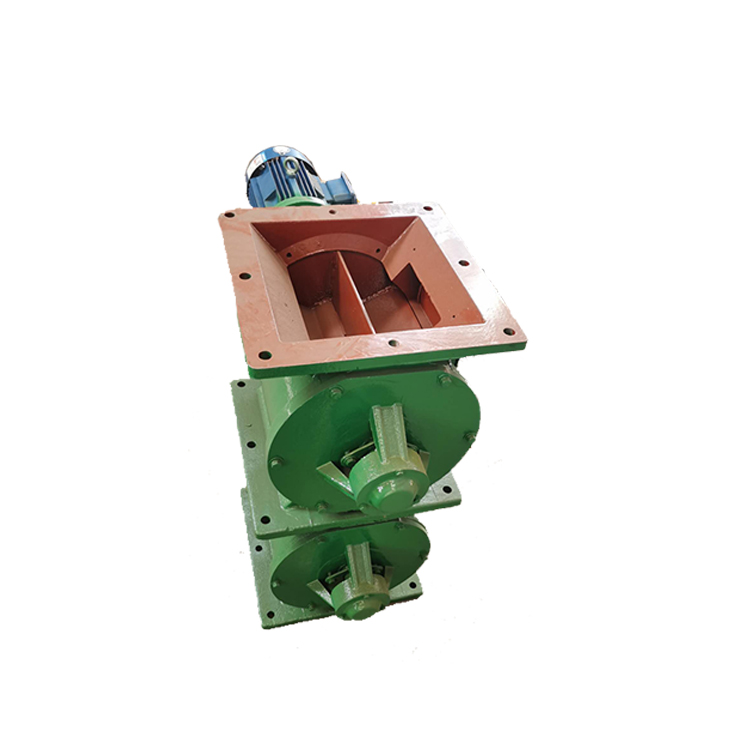 Working Principle:
Material falls onto the blades and rotates with the blades to the outlet under the airlock valve.Material can be discharged continuously.
In pneumatic conveying system,the airlock valve can lock the air and supply material continuously. The low speed of the rotor and tiny space can prevent the airflow from reverse flow,and ensure a stable air pressure and regular discharge of the material.The arilock valve acts as the material discharger in the material collecting system.
Industries Served

---
Previous:
Screw conveyor series
Next:
Cyclone Dust Collector
---
Write your message here and send it to us